Enabling the Translation Module
You must enable the Translation module for specific roles:
In Salesforce Commerce Cloud, navigate to Administration > Organization > Roles & Permissions.
The Roles page opens.

In the ID column, click the link of a role for which you want to enable the translation module.
The page for that role opens.
Click the Business Manager Modules tab.
The Select Context dialog box opens.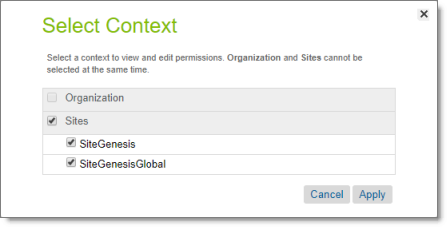 Select your sites and click Apply.
The Business Manager Modules page opens for this user.
Locate the Translation module and enable it by selecting the corresponding check box.