Configuring SDL TMS Entries
Note: This section is relevant only if SDL TMS is your translation provider.
If SDL TMS is your translation provider, you can configure SDL TMS configuration entries, which are used for submitting translation jobs, via the Clay Tablet, to SDL TMS.
To configure SDL TMS settings:
In the Site Administration menu on the left, ensure that My Site is selected, so that the My Site page is open. This is the default selection when you log into CloudBroker as a site administrator. For detailed information about this page, see Viewing Lionbridge App Information and Usage Data.

Click Configure Site.
The Site Configuration dialog box opens. The Site Name field at the top of the dialog box displays the name of your company's site.
Click the LSP tab.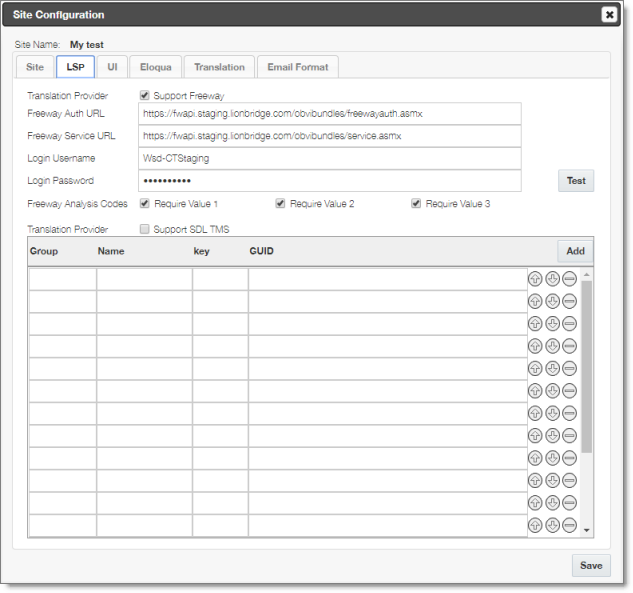 To enable support for the SDL TMS translation provider, select the Support SDL TMS check box.

Enter the following information about an SDL TMS configuration entry, which is used for submitting translation jobs to SDL TMS:
| Column | Description |
| --- | --- |
| Group | The Dropbox selection group. |
| Name | The name to display in the Dropbox selection box. |
| Key | The key for submitting a job to SDL TMS. |
| GUID | The key from the Dropbox selection box links to a GUID in SDL TMS. Each GUID is related to a different TM (translation memory), TermBase, and Workflow. |
Optional. Modify the order of a configuration entry. To change the order in which an entry is displayed to your users when they send out content for translation, use the Move Up and Move Down buttons.

Optional. To remove a configuration entry, click the corresponding Delete button .

Click Save.