Editing Connector Cloud Configuration Settings
In Adobe Experience Manager, you edit the settings for your Connector cloud configuration that you created in Creating an Adobe Experience Manager Cloud Configuration for the Connector.
Do one of the following to return to the Adobe Cloud Services page:

In your Web browser, navigate to /etc/cloudservices.html in your Adobe Experience Manager instance.

In the Touch-Optimized UI of Adobe Experience Manager, click Tools > Operations > Cloud > Cloud Services in the Adobe Experience Manager rail.

Under Lionbridge, click Show Configurations.

Click the link for the configuration you created earlier.

At the top of the page that opens, click Edit.
The Edit Component – Lionbridge Translation Settings dialog box opens.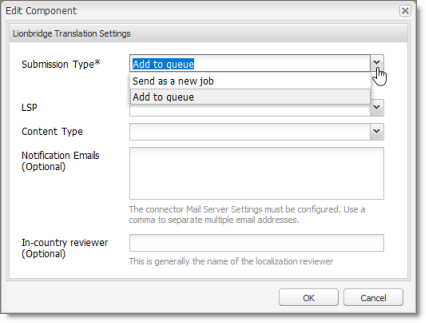 Enter values for the following settings:
Setting
Description
Submission Type
Select one of the following options:

Add to queue: The Connector adds the specified pages to the Translation Queue. In the Translation Queue, you can group items together by project, priority, and target language, and you can require additional approval before sending items out for translation.
Send as a new job: The Connector immediately sends out the specified pages for translation as a new translation job, according to your company's routing rules and the options you specify below.

The remaining settings are relevant only if Submission Type, above, is Send as a new job. Specify the appropriate settings for your company.
LSP
Select the translation provider for your translation jobs.
Content Type
You can tag the content in a translation job as a specific content type. Depending on your company's configuration, the Content API Platform may send the content to a specific translation provider based on the content type. Select one of the following content types:

Marketing
Technical
Legal


Note: You may see different content types if your company has configured custom content types.
Notification Emails
Enter one or more email addresses that will receive notification when the content leaves Adobe Experience Manager and when it returns to Adobe Experience Manager. Use a comma to separate multiple email addresses.
In-country Reviewer
Optional. This is generally the name of the localization reviewer, which is stored in the InCountryReviewer attribute in the XML sent to the translation provider. By default, this field is hidden.
Click OK to save your changes and close the dialog box.